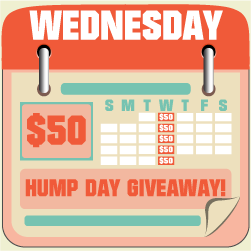 Did you miss us last week? With all the new terms, agreements and privacy policies from social media platforms, we had to make sure that holding the Hump Day $50 Giveaway wouldn't endanger any of the blog sponsors. So now we're back and I'd like to extend my heartfelt thanks to the 25 wonderful blog sponsors below for making this event possible and for continuing to stick it out with us. Please do check out their blogs after you've joined this giveaway to check on the latest news and deals.
NOTE: You can only join this event through one blog. Each person can only have a maximum of 32 entries. I do verify all the number of entries per person and if there are more than the maximum, I reserve the right as the host to delete duplicate or fraudulent entries. To validate your entries quicker and more efficiently, please use only one name and email address when filling out the rafflecopter form below, and for subscribing to all blogs. You are required to subscribe and confirm your subscription to all the blogs to validate your entries. If you do not confirm or subscribe to a single blog, all your entries will NOT be counted. On the page where you are to subscribe to the blogs, please also read the NOTE on those that UNSUBSCRIBE.
For a short tutorial on how to subscribe AND confirm an email subscription click HERE but be sure to come back to enter through this blog via the Rafflecopter form below.
My Tots Exactly | Fabulous Deals and Steals | Topics on Earth | The Coupon Cluster | Hott Mama in The city | Money Saving Mindy | Pinay Mommy Online | Life's Cheap Thrills | Corbitoness | Life According to Me | Our Priceless Treasures | Rewards Station | Deals By Gengen Blog | Exotic Philippines | Blogger's Tech | Hobby Lovey Store | My Charmed Mom | Mirage | Snapshots as they happen | Jared's Little Corner | I Heart Giveaways | Fabulicious Diva | My Tummy Calls | It's All About Me | mumwrites
On the first mandatory entry, please do not forget to write My Tots Exactly referred you since it is a mandatory entry. You must complete the first 2 tasks for 26 points before the others are enabled, and for all your other entries to count. Again, if you fail to subscribe AND confirm your subscription to any one blog, your entry will automatically be disqualified. All the sponsors will check their feed subscriptions to validate the winning entry.
Thank you very much and good luck. By joining this giveaway, you agree to the Terms and Conditions on the bottom of the form. Contest is open all-day Wednesday, from April 4th, 12:01am EDT to April 4th,11:59pm EDT (April 4th, 12:01pm Philippine time to April 5th, 11:59am Philippine time).

Don't forget to put
"My Tots Exactly"

referred you on the first entry!