My Tots Exactly loves giveaways and here's another one to start off the week with some $$$!  You ready??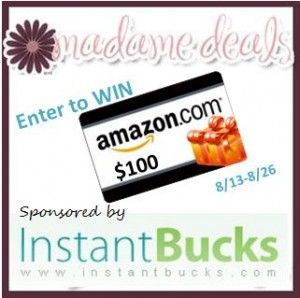 Madame Deals Media has teamed up with InstantBucks to bring you this great giveaway!  This giveaway is powered by Madame Deals and Mommy Needs her Coffee.
Who doesn't love FREE stuff, right? Free rewards, free prizes? Discover why InstantBucks is the best place to earn free rewards.
Get rewarded for completing easy surveys, shopping online, watching videos and sampling products!
Sign up with InstantBucks today and then enter this great giveaway!
Giveaway will open on 8/13 12:01 am EST and close on 8/26 11:59 pm EST.
Wait for the rafflecopter to load and enter below:
Participating Bloggers in this event:
Slop Swap| Madame Deals| My Tots Exactly| Utah Coupon Deals| pittsburgh frugal mom| Pynk Nymphette| Coupon Queen that Saves the Green| Coupons For Your Family| Whirlwind of Surprises| Giveaway Bandit| Enchanted Savings| A Thrifty Diva Surviving Mommy Hood| Cuzinlogic| Insights by April| Bargains4wahms| Raising My 5 Sons| Frugal Fanatic| Family, Love and Other Stuff| K Squared Glamour| Single Mom Saving Money| Nearly Nothing| the ABC kidZ| Girls with Coupons| Life: Full Of Unexpected Happiness| Mommy And We Like It| Colleen's Book Nook| Coupon Savings In The South| The Lucky Ladybug| Money Savvy Michelle| Stretching Your Budget| Little Inspiration| The Mommy Island| Saving You Dinero| Confessions of an Overworked Mom| Turning the Clock Back| The Shopping Duck| Single Mom Saving Money|